My Journey Underwater
It took me quite a long time to decide in getting an Open Water Diver license since the day I arrived on the Island—Okinawa. Perhaps I was a bit scared of the idea 'underwater' simply because I have no formal education on swimming. However, it was the other way around.
The whole experience was totally one of a kind. With the help of a very friendly and accommodating marine staff of Marine House SEASIR Naha, the training went smoothly and I completed the course very comfortably. There were challenges along the way but it's worth fighting for. Accomplishing each skill boosted my confidence in dealing with some circumstances underwater.
Now that I am a certified diver, I want to continue my journey as I learn more about marine life. And it will be more fun if you join and be part of the world's underwater explorers. Please don't waste your time! 🙂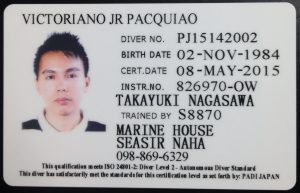 PADI diving courses with English, Mandarin & Cantonese speaking Instructor.